The rest of this series has mostly covered things you'd use when building a site. Once you've finished building though, and your new site has gone live there are plenty more things you need to do. There's hosting, SSL certificates, CDNs, and a variety of other services that only apply when a site is in production.
If you're doing things properly you'll almost certainly want to monitor your live site.
There are a multitude of things that you can monitor.  I've touched on monitoring previously where I talked about how I use sentry.io to track application errors. You might also want to:
track user behaviour (I wrote about using Google Analytics' advanced analytics monitoring in a recent post)
monitor and analyze server performance (I use Newrelic)
analyze deep language internals / code-paths (Blackfire is pretty awesome for PHP).
For me though, the most basic, and essential need is to understand whether your application is up and running. I've used Uptime Robot for this for a while. They have a free tier that provides everything you need for day-to-day monitoring. This provides up to 50 different monitors, checked every 5 minutes, with email alerts when sites go down.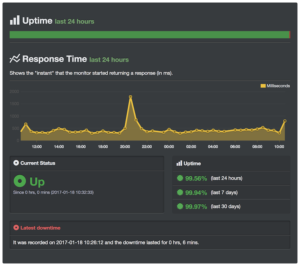 Their standard HTTP monitors checks if the specified URL responded with a positive HTTP response. They also offer keyword monitors where it will fetch a page and check for the presence or absence of specified keywords.
Once you need to go beyond that, they have a very reasonably priced Pro plan that gives more frequent checking, complex alerting rules, and SMS alerts. Perfect for higher value sites.
For me, UptimeRobot is a perfect example of a service that does one thing, and does it well.
Uptime monitoring with Uptime Robot